Write up and images by Helen W. 
870 miles from Caen in Normandy to Nice by the Mediterranean seemed a long way, but the idea of leaving home behind and cycling for two weeks across sunny France had a tremendous appeal.  After all, two brew stops and a lunch break meant that each day was actually broken down into four short rides which seemed very achievable.  The biggest unknowns for me were how I would compare with the other 20 riders on speed and fitness, and how I would cope with the hills, as my Cheshire training could not prepare me for the amount of climbing involved in this trip.  It did not take me long to discover that I was fairly near the back of the pack, and the hills were going to be tough and very, very long.  Lurking in the back of all of our minds was Day 11, Mont Ventoux of Tour de France fame; a 13 mile (21 km) ascent of around 6000 feet.
As it turned out, the itinerary worked as a training plan for Ventoux.  The first few days were long and relatively flat, but by Day 6 we were tackling steady ascents of 1500 feet over 6 miles, which only got longer as the days passed, but necessarily included fantastic descents through beautiful countryside where we cycled for up to 15 miles whilst hardly turning a pedal.  Particularly memorable was the ride from Le Mont Dore to Saint Flour.  The whole morning was spent slogging uphill through rain and fog in temperatures of 4°C.  Turning downhill after lunch, the sun came out and the temperature rose, meaning the hardest 37 miles I have ever ridden were followed by the easiest 20.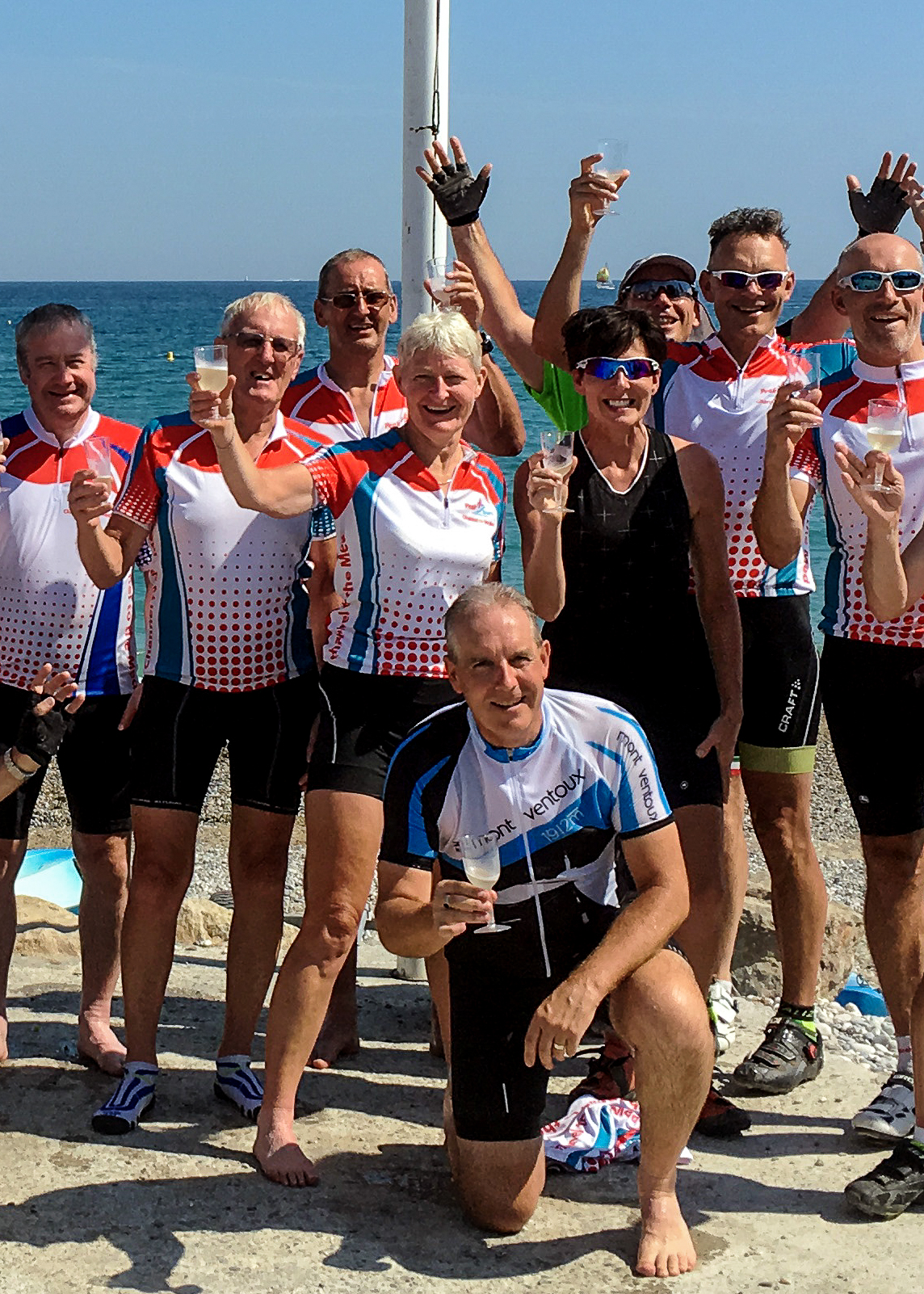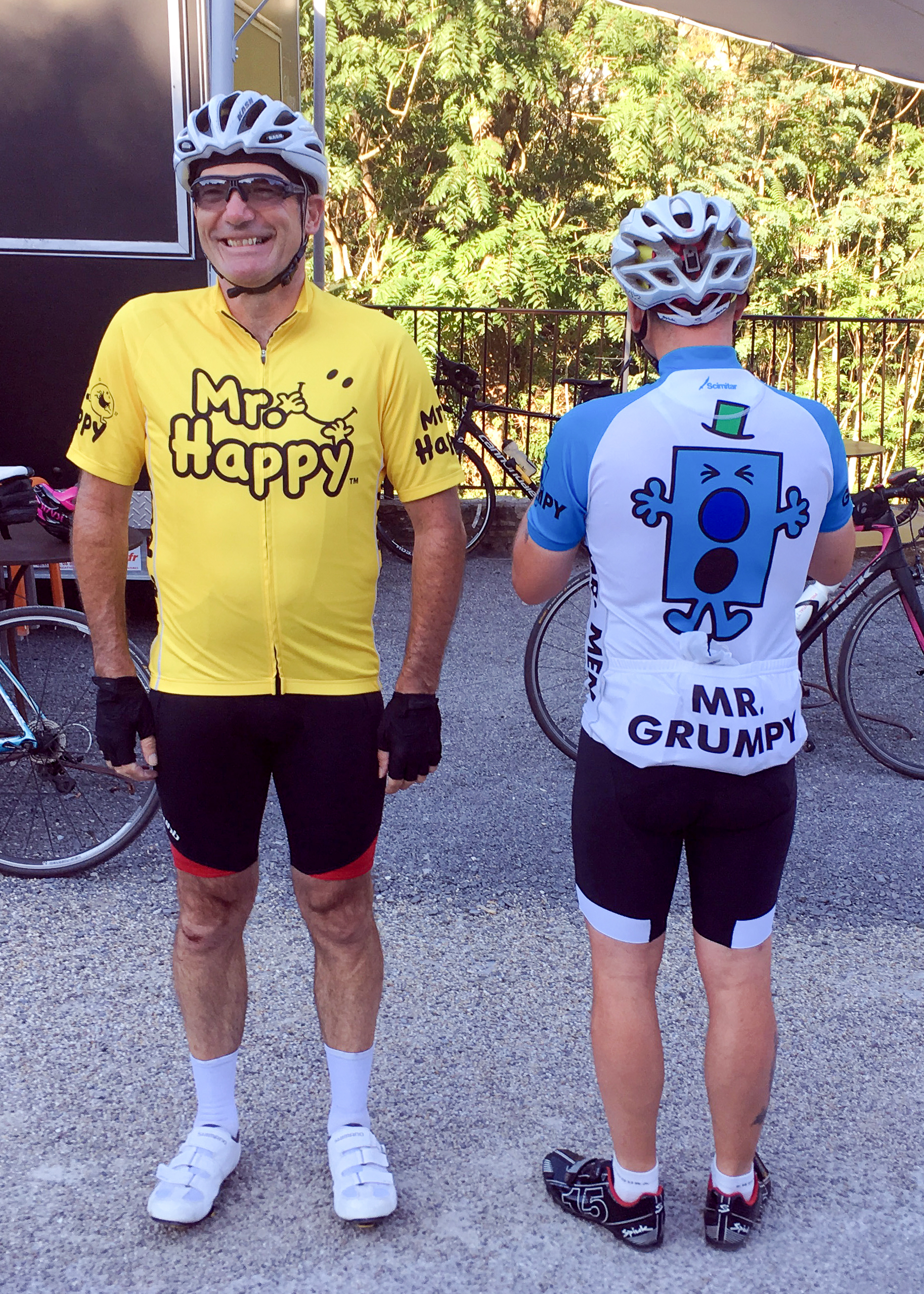 And so on to the sunny south and Mont Ventoux.  Ventoux is tough, tough, tough.  Beginning in the village of Malaucene, the road markers count down the 21km to the summit.  10km under my belt and I was optimistic that I might be able to make the summit without stopping, but the 11 km mark was followed by around 3km of 12 – 13% gradient which is a killer!  Every tenth of a kilometre seemed to take an age to complete and after about 2km of this I just had to stop for a breather.  Two stops later and I reached the summit amid cheers and shouts from my faster friends, and views which seemed to stretch for ever.  Then down to the town of Sault for a wonderful massage!
No one should cycle through the South of France without visiting the Gorge de Verdon.  Arguably the second biggest canyon in the world it is stunning, and a bicycle is far and away the best way to appreciate it.  The massive rock formations and vast drops to the river below had us all stopping for another photo at every turn.
Did I enjoy the trip?  Well, yes…the organisation was wonderful, the weather generally fantastic and the countryside well worth all the hills.  But it was lonely sometimes, as people generally cycled in small groups of similarly paced riders, with no one quite a match for me; a friend of my speed would have made a lot of difference.  If you are thinking about a similar challenge, I would say "go for it!".
At the finish!